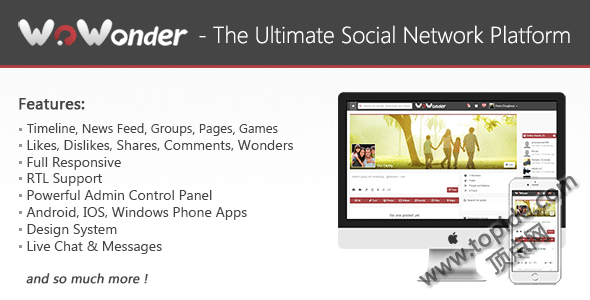 系统简介
WoWonder is a PHP Social Network Script, WoWonder is the best way to start your own social network website !
WoWonder is fast, secured, and it will be regularly updated.

WoWonder是一款轻量级的PHP社交网源码,适用于兴趣组、小团队,将The Ultimate PHP Social Network Platform翻译成终极PHP社交网络平台似乎有点言过其实。
本次发布的是1.5.4版本,已经被reishi破解,只需要根据安装方法安装即可!亲测可用,并且可以验证移动应用授权。如有需要安卓、苹果、Windows端客户端源码请与我取得联系。
演示地址

官方演示 https://demo.wowonder.com/
本站演示 http://sns.themez.cc/ 不定期关闭

系统需求
PHP 5.5 or Higher.
MySQLi.
GD Library.
mbstring.
cURL.
allow_url_fopen.
SSL certificate (just require for video chat).
系统功能

显示/隐藏文本
更新日志
v1.5.4
13th December 2017
Added the ability for users to send money to each other using their wallet balance.
Added Email messages notification for offline users.
Added the ability to import images from links in post system.
Added profile percentage system. (Fill your profile details for new users).
Added new pagination system with a search feature to admin panel (Users, Pages, Groups, Posts).
Added new ads placed in the ads system (Users can create ads on videos posts).
Added Iframe support for the forum Editor.
Added share to wowonder button to blogs.
Added the ability for users to choose a default thumb when uploading a video in publisher box.
Added playtube video player integration.
Changed video player to mediaelement.js
Expired events will be deleted automatically.
Hid admin details in mass notification system and replaced it with site favicon/name.
Changed the blog system design.
Fixed 7+ reported bugs.
下载地址
链接: https://pan.baidu.com/s/1hsvlLuW 密码: nwvf
安装授权码
Purchase code为

nulled-by-reishi
WoWonder v1.5.4 – 终极PHP社交网源码
---