站长有话说
LaraClassified v4.4 - Geo 分类广告CMS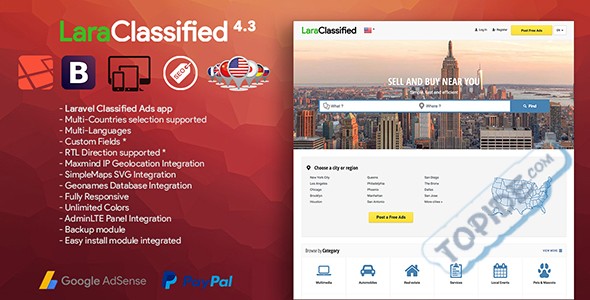 系统简介
LaraClassified是一个强大的广告分类CMS,开源和可调整的应用程序具有完全响应式设计。 基于Laravel和Bootstrap(HTML5&CSS3)构建,具有许多功能。

在这里用户可以按照地区发布广告内容(也可以是二手、租赁等内容),访客可根据地理位置自动展示周边内容。
系统亮点
使用更多人喜欢的响应式设计
连接外部服务,如:贝宝,亚马逊SES,Mailgun,Mandrill,Sparkpost,Twilio,Nexmo,Facebook(OAuth),谷歌(Adsense,OAuth,地图)等等,为网站盈利助力。
易于使用,为您节省时间。 只需2分钟即可安装。
多语言,模板分离等。
在线演示
前台
http://laraclassified.bedigit.com
Email: user@demosite.com
密码: 123456

后台
http://laraclassified.bedigit.com/admin
Email: admin@demosite.com
密码: 123456
功能介绍
Custom Fields (Create your own Classified Ads, Auto Deals, Real Estate, Directory Listings or Jobs Portal websites)
Clean and Modern Design
Fully Responsive (also in Admin panel)
Built with PHP/MySQL & HTML5/CSS3
Frameworks: Laravel, Bootstrap, jQuery, VueJS
Geo location supported (with Maxmind free or pro database)
Multi Countries (Switch to Multi Countries or Single Country)
Multi Currencies
Multilingual Support (English, French, Spanish and Arabic Included)
Support for RTL direction
Unlimited Colors
Homepage Customization (Change and Order the Home Sections from the Admin panel)
PayPal Integrated
Google Adsense integrated
Google Maps integrated
Twilio and Nexmo APIs integration
Facebook comment integrated
ReCaptcha integrated
Turn ON/OFF Ads activation Option
Turn ON/OFF User account activation Option
Allow guests to post an ad without being logged
Email Notifications (Using local SMTP or Amazon SES, Mailgun, Mandrill, or Sparkpost API)
SMS Notifications (Using Twilio or Nexmo API)
Resend Mail or SMS verification feature (Get more users with valid email or phone number)
CMS for Static pages (Create pages like: About Us, FAQ, Terms & Privacy, etc.)
Contact page (Contact form & Google maps)
Website Sitemap page
Google XML Sitemap
RSS feeds generator
List of countries page (If activated, SEO supported)
SEO optimized
Website backup (Admin panel module)
Blacklist (Admin panel module)
Plans/Packages (for Premium Ads)
Front End Listing Submission
Social Networks Login (Facebook, Google)
Protecting the users phone number against crawler
Well commented code.
Ready to use
Free Updates
and much more..
更新日志

版本 4.4 更新日期 2018年2月2日

警告

这是一个特别的更新,更新幅度比较大,建议老用户都执行更新操作。具体更新内容如下:

添加 : You will lose all your Admin panel -> Settings entries, and you will need to setup your website again.
添加 : You will lose all the current internal messages (that were also sent by email address to their receivers)
添加 : If you want to re-activate the ads review (ads approbation) option, all the existing ads will be approved automatically.
添加 : You will need to (uninstall and) re-install all the script's plugins after the upgrade.
添加 : You will lose all the plugins data and settings (except the payment plugins transactions entries).
添加 : Full Messaging System (between Sellers & Buyers) added
添加 : Allow admins to re-approve the ads on (title or description) modification (If the ads approbation option is enable)
添加 : Admin panel: Impersonation feature (Authenticate as your users)
添加 : Admin panel: New way to manage Settings
更新 : Options to setup the Default Date & Datetime format
更新 : Options to customize the theme's style
更新 : Options to setup the number of columns for Grid View Listing
更新 : Options to setup the Default Distances on the search page
更新 : Options to setup the Posts (single page) permalink
更新 : Options to Allow/Disallow users to pay the Packages in their country currency
更新 : Options to setup the footer (Hide the payment plugins logos, Enter the 'Powered by' info, etc.)
更新 : Admin panel: More Options to setup the Homepage Sections
更新 : Admin panel: Advanced filters 添加 (Ads, Users & Payments list)
更新 : Simplemaps.com's SVG Maps updated
更新 : Geonames Database updated (Available for fresh installations)
更新 : Installation process improved
更新 : No longer use async:false in jQuery.ajax() on the ads creation/edition forms (deprecated)
更新 : Admin panel: The sorting orderable columns feature improved
更新 : Many Minor Improvements
修复 : Bug Fixes

下载地址
链接: https://pan.baidu.com/s/1kWc7OxD 密码: ap18
破解说明
本站临时的演示地址为http://ads.demo.topide.com/ 仅仅为了测试安装和使用。
破解有两种方法,反正都可以用,就不多说了。
本次发布的版本是4.4 。
中文语言添加方法:
在resources\lang\下建立cn文件夹,然后复制resources\lang\en下的内容到cn文件夹,修改文件进行汉化,然后进入后台,在左侧菜单找到international
点开,单击languages,在右侧点击 add languages添加语言。
系统需求
PHP 7.0.0 或更新 (需要一些 PHP扩展,具体见安装第一步的扩展环境检查.)
OpenSSL PHP 扩展
PDO PHP 扩展
Mbstring PHP 扩展
Tokenizer PHP 扩展
XML PHP 扩展
GD 或 Imagick
PHP Fileinfo 扩展
PHP Zip Archive
Rewrite 模块 (Apache 或 Nginx)
安装方法
因程序基于Laravel框架,程序需要指定二级目录作为运行目录,安装时候需要单独设置一下:
设置网站目录和程序运行目录
网站目录例如/home/reishi/topide.com
运行目录则设置成/home/reishi/topide.com/public/
如有不懂请咨询主机服务商或好友或度娘。
然后建立数据库,解压缩文件,将文件上传。
运行http://yoursite.com/install 按照提示检查系统环境,
检测通过输入数据库信息和产品授权码,在Purchase Code里输入
nulled-by-reishi
然后按照提示一步一步进行安装。
2018.02.06 发布更新方法:

注意:更新之前请备份数据库、语言包以及更改过的CSS文件。
解压缩文件, 除了/.env文件和/ public / uploads 目录之外的全部内容,上传覆盖。
然后访问你的网站或打开http://yoursite.com/upgrade网址进行更新。
如果更新过程中出现了401错误时,请到网站后台检查,此时更新应该就是完成了。

---
版权声明
本站所发布的一切源码、模板、应用等文章仅限用于学习和研究目的;不得将上述内容用于商业或者非法用途,否则,一切后果请用户自负。 本站信息来自网络,版权争议与本站无关。您必须在下载后的24个小时之内,从您的电脑中彻底删除上述内容。如果您喜欢该程序,请支持正版,购买注册,得到更好的正版服务。
如有侵权请邮件与我们联系处理。更多关于版权信息请参考
顶点网 版权声明
。
If your copyright content is published here, please
contact us!