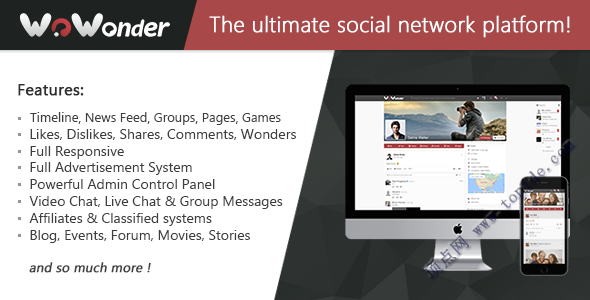 源码简介
WoWonder is a PHP Social Network Script, WoWonder is the best way to start your own social network website !
WoWonder is fast, secured, and it will be regularly updated.

WoWonder是一款轻量级的PHP社交网源码,适用于兴趣组、小团队,将The Ultimate PHP Social Network Platform翻译成终极PHP社交网络平台似乎有点言过其实。
本次发布的是2.0.1 破解版本,APP认证已经被reishi破解,只需要根据安装方法安装即可!亲测可用,并且可以验证移动应用授权。如有需要安卓、苹果、Windows端客户端源码请与我取得联系。
演示地址
官方演示 https://demo.wowonder.com/
本站演示 http://sns.themez.cc/ 不定期关闭【2.0.1版本】
系统需求
PHP 5.5 or Higher.
MySQLi.
GD Library.
mbstring.
cURL.
allow_url_fopen.
SSL certificate (just require for video chat).
系统特性
参见官方
https://codecanyon.net/item/wowonder-the-ultimate-php-social-network-platform/13785302
更新日志
二合一了,之前想发布2.0.0版本了,后来直接发布2.0.1了
Version 2.0.1 10/06/2018 (IMPORTANT AND URGENT UPDATE!)
[Fixed] 11 reported bugs.
[Improved] Script speed.
[Fixed] important security vulnerability.
Version 2.0 09/30/2018
[Added] digitalocean spaces storage.
[Added] poke system.
[Added] reaction system (Like, Haha, wow, angry, love).
[Added] gift system, users can send each other gifts.
[Added] statics and charts to daily ads views / clicks.
[Added] Infobip to SMS providers.
[Added] stripe to wallet system like on go pro page.
[Added] password recovery by phone number.
[Added] estimated user reach on create ads page.
[Added] bitcoin (coinpayments) payment method for ads and pro system.
[Added] Payment Transactions history for wallet topups and pro system, with the ability to turn this feature on or off.
[Added] the option to change the phone number from settings page.
[Added] popular posts page.
[Added] photos & videos sections to profile.
[Added] End video chat button.
[Added] ability to use percentage in the affiliate system.
[Added] telegram to share options.
[Added] admin can disable and enable social share links.
[Added] more emojies.
[Added] shortkey for posts, clicking "j" to scroll to next post.
[Added] points system, user can earn points for posts, comments, likes, dislikes, wonders, and reactions. (User can spend points on pro or ads, or he can requst them as dollars).
[Added] stickers to chat and messages.
[Added] rotate system for images.
[Added] Manage developer applications from admin panel.
[Added] Report comment to admin.
[Added] Advanced search system for custom fields.
[Added] Added filter by age, and verfied to the search system.
[Added] suggested groups / pages in my groups and my pages.
[Added] search system in blog.
[Added] auto friend system (Auto follow / friend with new registred users).
[Added] the ability to view mutual friends from the profile (friends system).
[Added] the ability to know who viewed your stories via notifications.
[Added] ReCaptcha check to forgot password form (secuirty).
[Added] blog comment notifications.
[Added] Email notification when the user's account was deleted.
[Added] a warning message before unfriending someone.
[Added] session manager (users can view / manage browser / platforms where they are logged in).
[Added] notification management system (Users can choose what kind of notifications they want to get).
[Added] the ability to add followers to a specific user using IDs, in Admin > Users (Enabled just in follow system).
[Added] blacklist system, admin can blacklist emails, usernames, and IP addresses.
[Added] activities system, user can view his own activities from his profile (like, dislike, react, wonder, comment, reply, follow, friends).
[Added] the ability for a user to choose if their profile should be found/indexed by search engines.
[Improved] load speed.
[Compressed] JS files to few less files.
[Fixed] bugs on API.
[Fixed] major bugs in the script. (+10)
[Fixed] 3 security issues.

安装说明
在安装的时候需要输入授权码,请保持默认
nulled-by-reishi

下载地址
附1.5.6.3 升级到2.0.0的升级程序,但没有测试,有需要的自行测试。
链接: https://pan.baidu.com/s/1LNjcuCo5gLoXfq7Csb0QmA 提取码: nnrn
题外话

请不要倒卖破解源码,如果再在淘宝上见到有倒卖的,这个源码将不保持更新了。

演示截图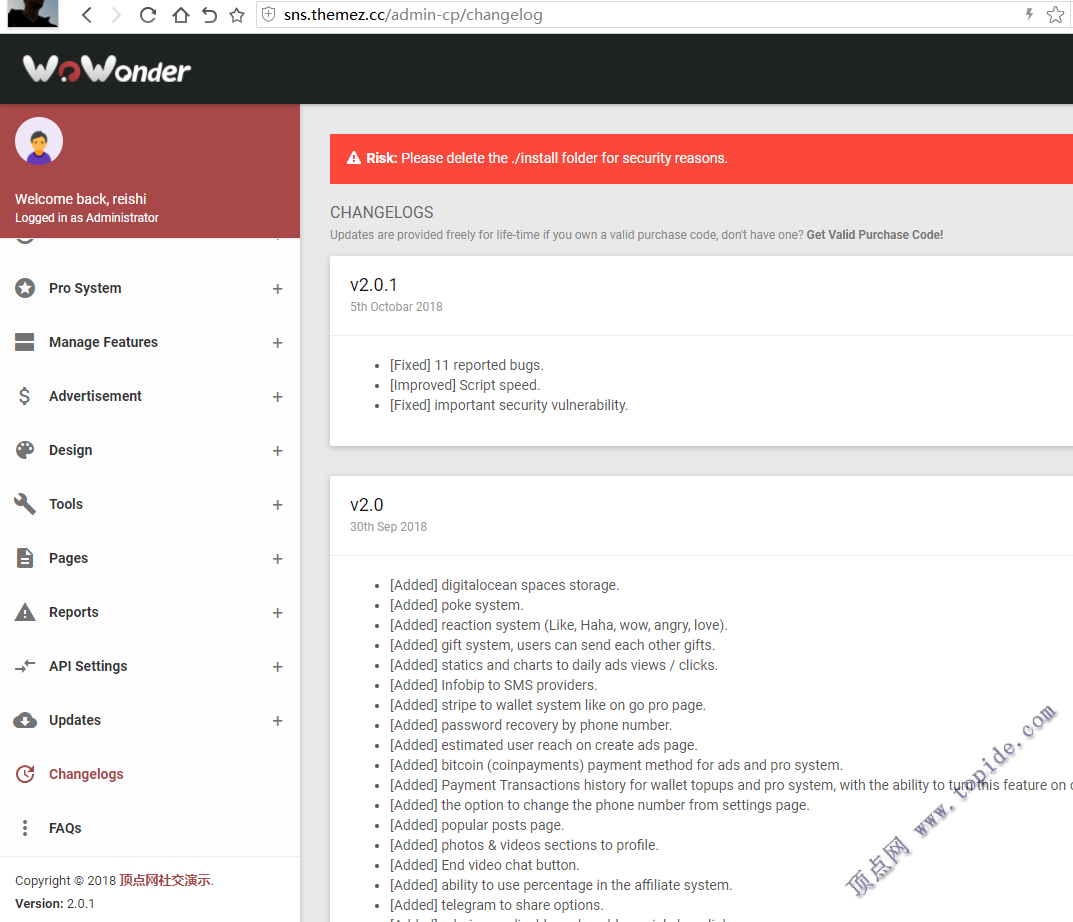 WoWonder v2.0.1- PHP社交网源码
---