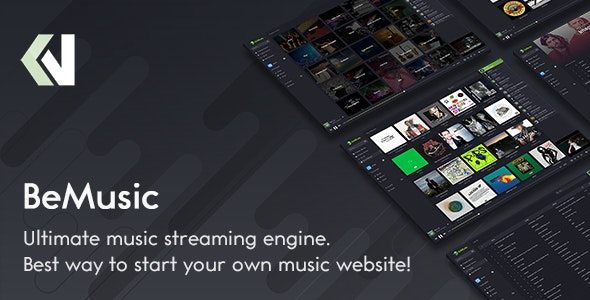 源码简介
BeMusic可以让您在几分钟内创建自己的音乐流媒体网站,无需编码知识。 程序有着丰富的功能,可以本地存储、调用youtube内容。
这个程序是
youtubify
的升级版,换了个名字,和
BeDrive
的是一个人了。
在线演示
系统特点

易于安装
外观编辑器
自动化
播放列表
背景播放器
艺术家管理
专辑管理
曲目管理
页面管理
响应式设计
多语言可翻译
用户系统
广告管理等功能


系统需求
PHP 版本大于等于 5.6
OpenSSL 扩展启用
PDO 扩展启用
php_fileinfo 扩展启用
MySQL, Postgres, SQLite 或 SQL 数据库.
更新日志
引用: 2.4.6和2.4.7两个版本的更新日志

2020 July 17 - Version 2.4.7
Enhancements
Removed "force subscription" setting. Same functionality can now be achieved by removing all permissions from "users" and "guests" roles in admin area.
Improved update process when updating from versions older then 2.4.6
Bug Fixes
Fixed an issue where valid mail credentials would be shown as invalid sometimes in settings page.
Fixed an issue where channels created with and older version might not be editable sometimes.
Removed "PHPMail" outgoing mail option as it was deprecated in latest version of PHP.
Fixed an issue with automatic google analytics credentials validation.
Fixed an issue where images uploaded on older versions might not show in some cases.
2020 July 11 - Version 2.4.6
New Features
Only one device can now be allowed to be logged into user account at the same time.
Enhancements
Updated Laravel to latest version. BeMusic now requires at least PHP 7.2.5 version to work properly.
Updated login, register, forgot password and reset password pages design.
If some server error occurs a more descriptive message will now be shown if user is logged in as admin.
Improved integration with media hubs and notifications for uploaded tracks.
All email templates will now have the same design.
Navigate to item page when clicking on media item image and not playback button.
Added separate address for contact page in mail settings page.
Show notification in "settings -> general" page if specified base site url and current url don't match.
Improved input focus outline design.
Landing page can now be enabled from "admin > settings > general" page.
Google analytics integration will now use newer .json key file instead of .p12
Open links inside track and album embed in new window.
Hide virtual keyboard on search page after hitting "enter" or "submit" button.
Bug Fixes
Merge artists and users in local search when artist mode is set to user to avoid duplicate results.
Youtube search results should now be more accurate for artists with special characters in the name.
Fixed an issue where it was not possible to add or remove artist from library sometimes.
Fixed an issue where adding genre with dash in the name might not work in some cases.
Playlists in user profile will now correctly show playlist owner username.
Track page SEO will now correctly user album image if track has no image of its own.
Cache method changes in settings page will now be properly validated.
Clearing cache will now work if "proc_open" function was disabled on the server.
Popularity sort option will now work properly in track table.
Make sure text logo does not push login button offsreen.
Fixed an issue with user background image would not be removable sometimes.
Always store appearance editor custom css and js locally, regardless of storage method in settings page.
If placeholders can't be replaced in tags provided in "admin > appearance > seo" page, hide those tags when displaying the page.
A number of other smaller fixes.

下载地址
安装方法
1、将解压后的website.zip上传到服务器,解压缩。
2、将网站运行目录设置为public
3、建立数据库
4、打开网站yourdomain.tld
5、根据提示输入数据库信息
6、设置登录用户名和密码
7、使用刚才的邮箱和密码进行登录
BeMusic v2.4.7 – PHP音乐网源码
---
版权声明
本站所发布的一切源码、模板、应用等文章仅限用于学习和研究目的;不得将上述内容用于商业或者非法用途,否则,一切后果请用户自负。 本站信息来自网络,版权争议与本站无关。您必须在下载后的24个小时之内,从您的电脑中彻底删除上述内容。如果您喜欢该程序,请支持正版,购买注册,得到更好的正版服务。
如有侵权请邮件与我们联系处理。更多关于版权信息请参考
顶点网 版权声明
。
If your copyright content is published here, please
contact us!